Cleaning a building is often the responsibility of a person or a team who handle janitorial and facility concerns. Yet, there are some important tips for everyone to know that will improve workplace cleanliness and foster a positive experience every day.
1. Eating at Your Desk
Some weeks are busy, and it's difficult to take time out of the office for lunch. If you eat at your desk, what happens when you discard food leftovers in your office trash can? Many cleaning teams use structured workloading to clean a facility. Your office trash can, which is meant for paper and other small non-food items, may not be scheduled to be checked and emptied. As the food sits and rots overnight and into the next day it becomes a breeding ground for bacteria and a boon for pests. If you choose to eat at your desk, it is always a good idea to take all food scraps and related waste to a properly designated trash can within the facility.
2. Decluttering Your Desk and Workspace
At the end of the day, it is a good idea to clean your desktop. Your folders, papers, staplers, tape, and pens should be removed from the desktop before routine cleanings. Ask the facility cleaning team when they dust and disinfect desktops and clear your desk and other surfaces within your work station or office before those cleaning times to save time and labor expenses as well as ensure that your area receives the spec'd cleaning.
3. Lunchroom Etiquette
Eating is a messy sport, and food preparation can leave a kitchen untidy. In a shared space like an office kitchen, it is better to cover plates and platters before reheating in a microwave to stop splattering. Disposable plates, bowls, and cups are great in an office kitchen so that dishes do not pile up in a sink and need to be washed, and your coworkers will thank you after you wipe down the table where you sat and ate your meal.
4. The Restroom
A small sign may go a long way to remind employees and guests that restrooms better serve everyone when kept clean. If you have a small restroom with poor ventilation, restroom users may appreciate an aerosol air fresher which can reduce personal embarrassment for the previous occupant and extra paper towels to wipe surfaces as necessary.
5. Floors
In shared, open office space it is sometimes necessary to plug in additional devices ranging from a phone charger to a small space heater with cords that lay on the floor. It is best practice to keep these cords out of walking paths to reduce trip hazards that can translate into lost productivity and even lawsuits. When the janitorial team is cleaning the facility, these cords can become wrapped in vacuums and not only destroy the electrical device but cause damage and necessitate repairs to vacuums and other cleaning equipment. When possible, keep cords secured and unobtrusive.
6. Working Sick
If you're sick and you choose to go to work, you may pass that cold, flu, or other malady to a coworker. On the other hand, if you do not go to work, you cannot infect others. Simple, right? Unfortunately, sometimes staying home isn't an option. When you must work while sick, make sure to take as many precautions as possible to protect your coworkers.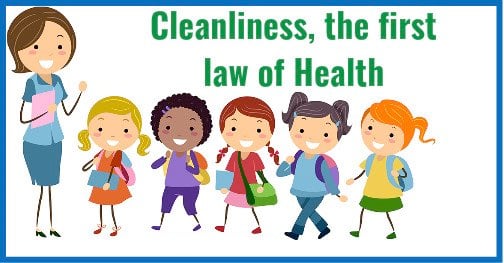 Everyone benefits from a clean, healthy, and safe environment. These workplace cleanliness tips will help you and your team feel better and increase productivity.