Some may say that the solution you choose to maintain the surfaces you are responsible for in a commercial facility is the most important part of the cleaning process. Though the cleaning solution is important, it would be useless without the proper tool to clean with. Sponges, scrubbers, wipers, scouring pads or sticks are just a few of the options you can choose when applying cleaning solutions. Now if there were only something to help you know exactly what each does and which one to choose for the task at hand… Well, now there is. Action Unlimited Resources decided to create this guide to make sure you are cleaning each facility to the best of your ability to retain commercial cleaning business and earn referrals to grow your business!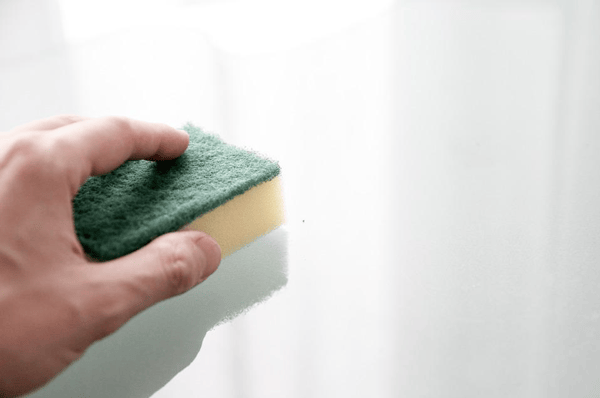 Sponges
Let's start with the basics – the first thing that may come to mind when you think of cleaning a surface are sponges. There is a reason that they are so common, they are great for cleaning almost everything. Most sponges are made of cellulose, which is made from wooden pulp. The main uses for cellulose sponges are to clean kitchens, windows, counter tops, and restrooms. They can last up to 100 uses and Action Unlimited Resources has different sizes and colors for each job.
*Pro Tip: Separate your cleaning materials by matching the color of your sponges to your buckets and other cleaning supplies for each area that you may be cleaning. For example – use only blue sponges, mops, and buckets specifically in the restroom areas of your facilities to keep organized and more sanitary. You don't want to use the same sponge on a toilet and a kitchen countertop.
Scrubbers
Next are the scrubbers, the more aggressive surface is used to fight grime, build up, and hard to scrub surfaces. You can find scrubber pads or pads attached to one side of a sponge for duel use. The strength of a scrubber is in-between a sponge and a scouring pad. These can come in handy for jobs that need a little more grit than what a cellulose sponge can handle. The most effective scrubber for the toughest projects would be one made of steel, but you must be careful not to use it on a soft surface or one that is easily susceptible to scratches.
Scoring Pads and Sticks
These are the go- to category for any heavy- duty project you may have to face. They can come in a few intensities from light to heavy. They can be gentle enough to be used on windows – for example a great tool for clearing off bird waste that a cellulose sponge just can't scrape off without causing damage to a window. Medium-duty – to be used on items such as commercial kitchen equipment. Heavy-duty – good for industrial equipment. Lastly extra heavy-duty – works well on grimy commercial equipment. Scouring products come in pads, sticks, sponges, etc. Scouring sticks come in handy for stains that come from things like mold, rust, and hard water.
Which Ones Are Right for My Facility?
Ask yourself a few questions like:
What types of surfaces will I be cleaning?

Which areas of my facility have the toughest surfaces to clean?
What intensity of grain do I need in my sponges, scrubbers, or scouring products?
How frequently am I finding myself in need of each product?
Could I be wasting time, effort, and money by using only one type of cleaning tool in my facility?
We hope you now have a better understanding of which products would be the best for your facility. After asking yourself the questions above, take a better look at Action Unlimited Resource's new catalog between pages 15 and 21 for a full product list as well as more information for picking the perfect products for your commercial cleaning business. With all of this information, your next sponge and scrubber order will be a breeze.