When cleaning a commercial facility there are hallways, restrooms, common areas, offices, and classrooms included in the scope of work. There are tile and wood floors, carpets, glass and mirrors, and many other surfaces.
Some organizations use a checklist of work to be completed in each area and assign team members to do that work on a set schedule.
Often all of these processes are manual. They don't have to be. Use technology to its fullest!
Technology like "smart" equipment connected to the internet or phone apps that connect facility management to guests can help overcome the biggest problems in facility cleaning.
Is it time for you to evaluate new, more efficient options to improve the guest experience in your facility?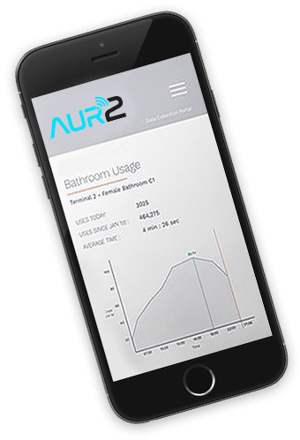 Smart Equipment
Equipment breaks down. Sometimes it happens in the middle of an important job.
Maintenance is critical to maximize up-time. Organizations often rely on paper logs of service hours, or worse, just repair it when it breaks.
Manufacturers of cleaning equipment realize this. Some scrubbers and other units can records service hours and send notifications when it's time for service or repair.
Restrooms Connected to "The Cloud"
Ordinary soap dispensers run out of soap and clog.
Smart dispensing systems record the usage data, transmit it to "the cloud," and send alerts to the facility team to refill soap or correct issues.
With ordinary toilet bowl cleaning programs, a staff member enters the restroom and takes a stall out of service while the inside of the bowl is cleaned and disinfected.
Smart toilet bowl cleaning programs disinfect on every flush, record the usage data, transmit it to "the cloud," and send alerts to the facility team to refill the cleaning chemical or deep clean the stall.
In ordinary restrooms, most people look underneath a stall or knock on the door to determine if someone is using the toilet.
Smart stalls have sensors that operate a red light/green light system like traffic control devices to identify occupied stalls for your guests.
"Hey, do you know how to do this?"
The cleaning industry has high staff turnover. Shift-supervisors take the time to review the workload with each crew and bring paperwork explaining the cleaning process.
Investing in cleaning management software to improve work-loading, access procedures, manage inventory, and document the operation pays dividends over time.
User Feedback
In high traffic facilities, the toilet paper dispensers run out, the soap dispensers need to be refilled, trash piles up, floors get dirty, and wet hazards happen quickly.
Guests and staff using these facilities expect clean, sanitary, and safe, not smelly, dirty, or dangerous.
Let guests use their mobile phones to alert the facility team that there is a problem. Let the facilities team take corrective action, log the fix, and thank the guest from their phone, tablet, or computer.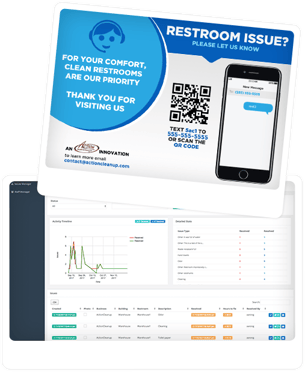 Technology is for Winners
In every building, in every business, the best teams work to maximize their productivity every day. Whether it's a research team in a science lab, an IT team at a financial institution, or a facilities team in a high school, technology increases productivity.
Using technology to overcome the biggest problems in facility cleaning leads to better production, better responsiveness, and a higher-quality guest experience.
To Learn More About Using Technology To Provide A Higher-Quality Guest Experience Click Below