Clean restrooms are a huge reflection on the quality of a facility cleaner's work. This is because bathrooms are one of the hardest areas of a facility to keep clean. Sometimes it may even seem like you are in an endless battle with your facility's restrooms. But, fear not, if you come prepared you have a chance of winning the battle! The first step to being prepared is to make sure that you have everything you may need to keep restrooms clean. To do this efficiently, you'll need to create your own "Ultimate Bathroom Cleaning Supply List".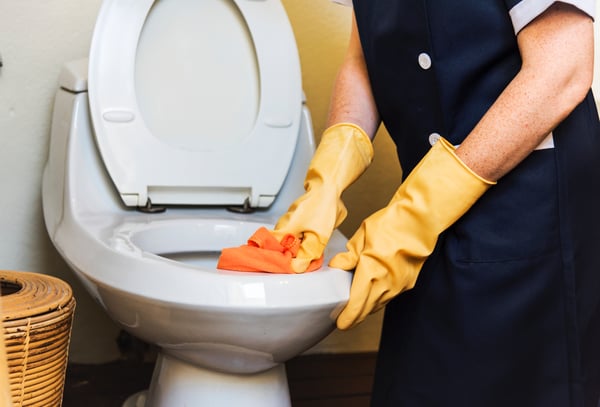 It's always good to start with the basics. A few common sense items you will need to keep your restrooms clean are:
Broom, dustpan, brush

Microfiber flat mops and extra pads

Microfiber cleaning cloths

Disinfectant cleaning solution

Disinfectant spray

Toilet bowl cleaner and toilet bowl cleaning brush

Floor cleaning solution

Glass/window cleaner

Gloves
Then you'll need to consider "What do I need to stock the bathrooms in my facility?"
Toilet tissue

Paper towels (if your facility does not have hand dryers)

Hand soap

Trash liners

Facial tissues are a nice bonus to include, but not necessary
The next step to completing your "Ultimate Bathroom Cleaning Checklist" is to unbiasedly analyze your facility's bathrooms to determine what ways you could improve the cleanliness. You can do this by asking yourself questions such as;
"Are there any unpleasant odors?"

"Is the bathroom consistently stocked?"

"Are the sanitary disposal containers and trash cans emptied regularly"

"Can you notice dirt, dust, or grime on the countertops, floor drains, stalls, sink fixtures, or door handles?"

"How clean are the windows and mirrors?"

"Do the floors appear to be clean?"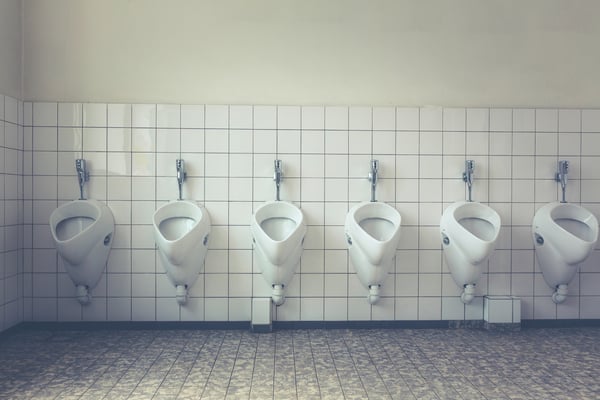 Now that we have been honest with ourselves about what we need to improve and what is working with our current method of bathroom cleaning – we can begin to make our checklists. Yes, I said checklists, not checklist. You are going to need multiple checklists to make sure you are efficiently and correctly cleaning your facility's restrooms.
First, you will need a day to day list – things that must be done on a daily basis such as:
Emptying trash and sanitary disposal bins

Disinfecting door handles, countertops, light switches, paper towel dispensers, faucets, and all surfaces with high-contact

Cleaning and sanitizing toilets, urinals, and sinks.

Restocking any dispensers that may be running low like –toilet tissue, paper towels, soap, etc.

Sweep and mop floors
Second, you will need a weekly list – things that must happen at least once a week that require a deeper cleaning. A few examples may be:
Cleaning the walls

Disinfect all trash cans

Scrub floors

Clean mirrors and windows thoroughly
Third, incorporate some of Action Unlimited Resource's insight in their " Ultimate Cleaning Supplies List". One of their best tips for restroom cleaning is to clean from the top down. Always remember to pick your products specifically for your facility. For example, you must use low-toxicity cleaning chemical systems when cleaning restrooms in schools. You must also adjust your cleaning methods based on facility type. One example of this is in health care facility cleaning, you must implement a quiet cleaning system, as to not disturb the patients. Every facility cleaning job is going to be different, with unique needs. You need to formulate individual checklists for each and every facility. What works for a hospitality facility with 200 restrooms using fresh towels and linens, will not work for a busy rest stop building using hundreds of paper towels a day.
The only thing that remains the same from facility to facility, is that Action Unlimited Resources Inc is the best place to turn for your supplies and assistance in finding what you need to keep your facilities clean.