If you have been following Action Unlimited Resources' latest blogs, you are almost a pro at securing every type of major facility cleaning contract. Today, you will get the insider secrets on the last piece of the puzzle. You are about to learn the best ways to find facility cleaning contracts in the most prevalent industry you could possibly target…. office buildings.
The best tip that we can give you is to build connections in relevant but creative places. You should have established relationships with every single type of company that touches an office building before the actual office space is leased or sold. Think creatively – focus on nurturing professional connections with developers, painters, interior designers, office supply companies, office furniture companies, Commercial Real Estate agents, business property management companies, and more. You need to be the first company or name that comes to mind when the decision maker is ready to hire a facility cleaning company.
Picture this – a painter is priming the walls while the newly hired property manager is doing a walk through with a potential lessee. The lessee asks if cleaning services are provided with the lease. Dumbfounded, the property manager realizes this hasn't been determined yet because they hadn't had any bids done and the painter says he knows a fantastic facility cleaning company in the area that would love to be contracted.
Word of mouth and reputation are huge in this industry. There are thousands of offices in any given city, but a great deal of them are managed by a small group of property management companies. Once you become the go-to company for one property management company, the others are almost guaranteed to reach out.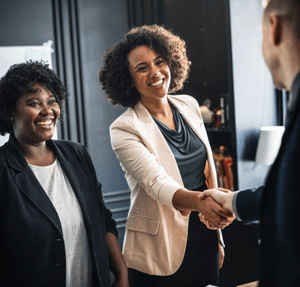 Now I'm sure you're thinking… Wait, how do I make connections within similar industries to begin with? The answer is simple NETWORKING. This is the most important step in beginning to dominate this industry. Search for local networking groups, meetings, or events on Google, Facebook, LinkedIn and other event websites. It only takes a few hours of socializing and relationship building with the right people to start getting leads sent your way. Always keep in touch with the connections you've built. A few ways to remain relevant in a business connection's mind are to; take them to coffee once every 6 months, add them on LinkedIn and engage with their posts, send a birthday card, and check in via email every once in a while, including small personalized details – not just a generic copy and paste follow up.
Another great way of getting leads sent to you is by establishing a referral system with the clients and connections you already have in place. Providing incentives to your already happy customers or supportive business connections can really encourage them to spread the word about how thorough, reliable, and high quality your work is. Individuals are much more likely to use a service by a company that comes highly recommended by a mutual connection. A study by Wharton shows that clients who were referred are 16% - 25% more likely to be retained long-term than clients who were not referred. That percentage can make a huge difference in income over time, especially in an industry with the need for repeat use like facility cleaning.
As always, the best place to turn for supplies and assistance in finding what you need to keep your office facilities clean, look no further than Action Unlimited Resources Inc.