Both hand dryers and paper towels have their place in the restroom. It's a hybrid of answers about your specific situation that determine the right product for your place of business. Most consumers prefer a paper towel, however there are factors that can influence the consumers reasons for demanding a hand dryer.
Today's hand dryers work faster, are much quieter, and can filter the air in the restroom. Hands-free operation means you don't touch the hand dryer. There are versions that use very little electricity and are Green Spec listed.
There is also the question of sustainability. Hand dryers save natural resources and reduce waste. Air dryers also save on trash removal and the labor to ship, receive, store, and load paper towels.
The economics are great for the operator as hand dryers save money. It is estimated that, on average, each towel dispenser uses over $900 of paper per year. Hand Dryers can pay for themselves in less than one year.
The question shouldn't be - paper towels or air dryers, which one wins in customer experience?
The question is - what is the correct hand dryer for you?
With newer technology, hand dryers like the Triumph from ASI, have a three stage HEPA and charcoal filter which ensures the air drying your hands is microbe free and particulates are filtered from the air in the restroom. The decibel level on these new fast drying machines can be adjusted so they don't hurt your ears and they minimize the possibility that everyone in the office knows you are using the restroom.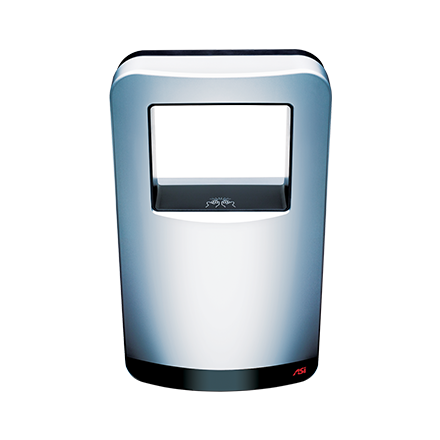 Newer dryers also have water management features, so you don't get water on your shoes or create a slipping hazard in the restroom. The Triumph from ASI has a built in ceramic stone that absorbs water up to 180 continual hand washings. There is an overflow cup if more water is present. It's great choice for food processors who may have a hundred or more employees who all wash their hands after lunch or break before re-entering the workspace. These hand dryers are designed to dry hands in as little as 12 seconds. No more filling up yard-size bins with wadded up paper towels after each shift break.
Paper should always be available in the restroom for a variety of reasons. If someone needs to wipe a spill, wipe their face, or even stop a bleeding cut, it's great to have a paper towel. Towels are also good for grabbing door handles.
A mixture of towels and hand dryers is a smart option. For those who are environmentally concerned, hand dryers are great. For those who prefer a towel, one should be available. Operators can lower their overall cost and still offer choices that make everyone happy by employing hand dryers and towels together.
If you dislike hand dryers because you believe they're dirty, feel rest assured that the door handle and the faucet handle have a lot more germs than the air blowing on your hands. With hand dryers, you can choose clean, filtered warm air that dries quickly, has a low decibel level, offers a water management program, and can potentially pay for itself in under one year.
So maybe the reason people still prefer the paper towel, is because they aren't familiar with the latest technology in hand dryers. Possibly it is because they've never used a new, more advance hand dryer.
It should be recognized that advancements in hand dryer technology have changed the user experience in the restroom. By introducing high-performance hand dryers into restrooms with a proper paper towel program, any facility can see marked improvements in customer experience as well as savings to the bottom line.
To learn about additional opportunities to save money and improve the restroom guest experience Click Below