Let's face it. Stripping VCT floors is labor intensive, expensive, and doesn't always go as planned. Have you spent countless hours scrubbing, stripping, and scraping only to get the result pictured below?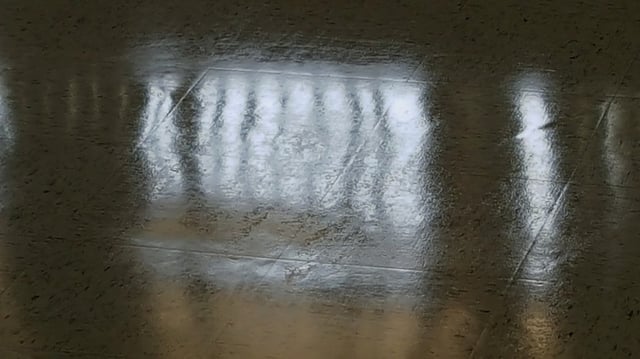 If you want to eliminate stripping, you must remove old technology and start fresh. Every year, facility staff assume their floors need to be stripped. It's possible they refer to antiquated floor care guidelines or consider it standard practice. Whatever the reason, facilities spend a fortune on products and labor to strip and recoat their floors. Not only is it expensive, it's dangerous.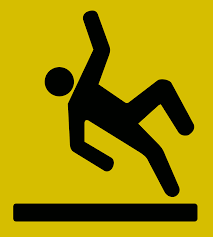 Many stripping chemicals are highly toxic and when applied to a floor create a very slippery surface.
Stripping Floors Can Destroy VCT
Continuous stripping of VCT can penetrate tiles, and remove color, or as pictured below, remove the glue that holds the tiles in place. This damage is irreversible, and the only solution is replacement.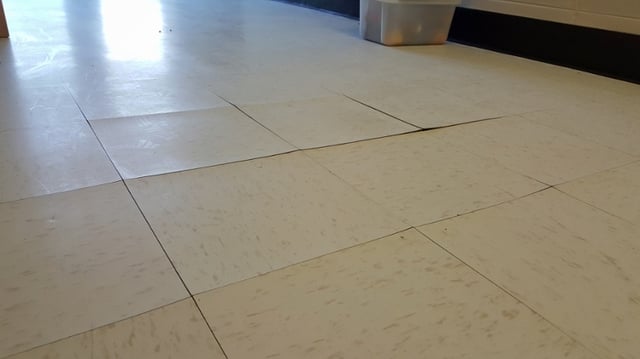 The great news is that by starting fresh, introducing new technologies, and changing your floor care maintenance process, you can extend the life of your finish dramatically.
The best way to avoid these issues is to implement proper, easy-to-follow procedures that prevent the need to strip every year. Starting with a bare, neutral floor gives you the best possible base to launch a long-term floor care program.
Floor Finish
What is the solids content of your floor finish? This common question only touches the surface of what makes up the important characteristics of a floor finish. The type of polymer, not the percentage of solids, can be far more important to your long-term outcome. If you want to eliminate stripping, you must start by selecting a finish that is designed to hold up to the abuse and possible neglect the floor will encounter throughout its life.
Recoverability
No floor coating will stay perfect with the wear and tear that hundreds or thousands of people put on it daily. Besides shine and slip resistance, an important factor in selecting your floor finish is to pick one that is designed to recover. Most floor finishes are designed to be stripped so they don't put the necessary ingredients in to allow them to release dirt. Newer technologies in floor care allow you to have a coating that can release dirt and discoloration without the need for stripping.
Maintenance
Following a good maintenance process can keep your floors at an optimal level and prevent future damage.
Matting Systems
A good interior and exterior matting system works 24/7 and can dramatically reduce how much dirt, salt, sand, and other types of debris can enter the building. Be sure that you maintain mats by regular vacuuming, cleaning, and rotating.
Dust Mops
Pushing around a dust mop that is loaded with dirt and dust doesn't do much good for the floor. Newer technologies like microfiber dust mops and dusting sheets pick up significantly more dust and grit and can be cleaned out much more easily.
Floor Chemistry
Floor finish can be damaged by using the incorrect product. Select a neutral chemical that can clean, protect, and maintain your floor without altering its pH drastically.
Equipment
Maintaining VCT with the proper equipment such as an automatic scrubber will help extend the life of the floor finish. These units are designed to scrub, clean, rinse, remove the soil and dry the floor in one, easy step. A high-speed burnisher, using the correct pad and maintenance product, will keep the floors at an optimum gloss while helping to remove surface scratches, scuffs, swirls, and residues.
Overspray
Floors can be badly damaged by overspray from chemicals used to disinfect and clean vertical and horizontal surfaces. Utilizing a low toxicity disinfectant and a mild pH cleaner can prevent the above-the-floor cleaners from damaging your floors.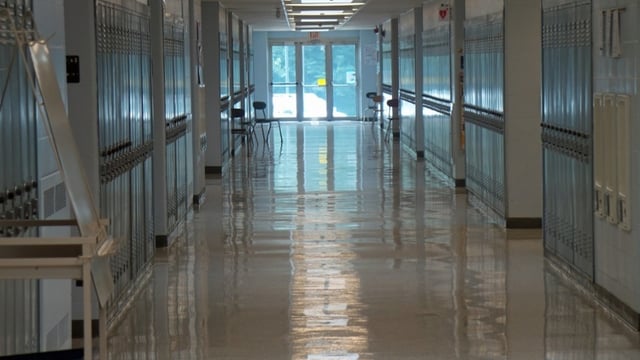 The Proof!
The floor pictured above was last stripped in 2013, and to-date is maintained properly using state-of-the-art technology. With the guidance of a qualified consultant from Action Unlimited Resources, you can learn how to go 5-10 years without having to strip a floor.