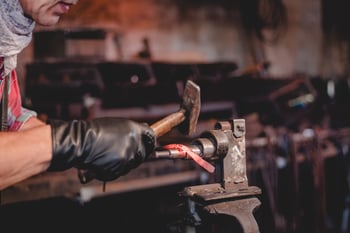 Did you know that there are over 100,000 workplace hand injuries that lead to lost time every year in the United States?
According to OSHA, over 70% of arm and hand injuries that occur in the workplace could have been avoided had the individual been wearing protective equipment, such as safety gloves.
Buying safety gloves for your maintenance team seems like a fairly easy way to protect your workers' hands. But if you've ever tried to research "best safety gloves", you may have been overwhelmed with the many options available.
To help you make the best purchasing decisions for your team, we've created an overview of the most common types of workplace gloves:
Unsupported Gloves

: Both reliable and economical, unsupported gloves offer chemical protection and are very well-suited for completing tasks that require a lot of dexterity. You can purchase disposable gloves that your workers can conveniently throw away after a shift or multi-use gloves that will need to be cleaned regularly. Unsupported gloves are commonly made of latex, but if there are workers on your maintenance team who have latex allergies, nitrile and vinyl are good substitutes.
Supported Gloves

: Commonly made of butyl, neoprene, nitrile or PVC, supported gloves are handy for both general cleaning and handling chemicals. Supported gloves will help protect against cuts and will improve the wearer's grip.
Leather Gloves

: Gloves made of leather are well-suited for both general and medium-duty maintenance work. These gloves tend to be very durable and offer a high level of comfort and dexterity. During the cold winter months, lined leather gloves can provide additional warmth. Keep in mind that if leather gloves get wet or oily, they can more easily be cut through.
Cotton Gloves

: Typically made from canvas, jersey or terry cloth, cotton gloves help keep hands clean and protect against minor scratches, but, are often not the best choice when working with sharp tools with rough edges. If you're looking for a glove that will keep hands warm, some cotton gloves come with enhanced thermal protection.
String Knit Gloves

: Made of fibers knitted together, string knit gloves offer both dexterity and protection, and are perfect for light-duty maintenance work. The fibers help minimize sweat and allow the hands to breathe. Some workers like to wear string knit gloves as a liner for additional protection.
Coated or Dipped Seamless Knit Gloves

: Covered in a polymer coating for enhanced protection, these gloves provide a barrier against harsh chemicals, cuts, abrasions and punctures. These gloves are recommended for workers who handle chemicals and perform heavy-duty cleaning tasks.
Cut Protection Gloves

: These gloves are designed to protect the wearer's hands from sharp edges like glass, ceramics, blades, and metal, making them an ideal choice for medium to heavy-duty maintenance work. While the materials used in cut protection gloves vary, common materials include Kevlar®, Dyneema® or composite yarns (HPPE). As a word of caution, cut protection gloves are not as effective in providing protection against punctures and power tools.
Multi-task Gloves

: Typically made of leather, cotton, or synthetic materials, multi-task gloves are made with extra materials for added protection. Multi-task gloves are a good choice for maintenance tasks that require extra hand protection, while still allowing the hand to easily grip and work with small parts.
As you shop around for gloves, keep in mind that there is no one type of glove that will offer the protection that maintenance workers need for all of the varied tasks that they do over the course of a project. You will likely want to make several different types of gloves available to your workers based on the tasks that they are responsible for.
At ACTION Unlimited Resources, we offer a wide assortment of gloves that are designed with maintenance workers in mind.
Need a hand selecting the most suitable gloves for your maintenance workers? At ACTION Unlimited Resources, we can't wait to chat with you about the best glove options for you and your team's needs.