A 2019 study found that 71% of commercial buyers start their research with generic Google searches, and 62% of buyers report that they make business decisions solely using online content. As the world moves rapidly toward digital, it is becoming critical for small businesses, including facility management companies, to be searchable online.
As the owner of a facility management and cleaning company, you are likely incredibly busy and constantly juggling many different aspects of keeping your business running. From hiring and training your team to writing bids for new contracts to managing your inventory stock, you may find that you haven't dedicated as much time as you would like to building your company's online presence.
If you are looking to build your company's online presence as we kick off 2020, we have put together a handy guide to help you get started:
1. Optimize your website for search

.
When prospective customers are in the early stages of looking for cleaning and facility management companies online, they often search the Internet using generic key phrases, such as: "facility maintenance companies in DC" or "best commercial cleaning company near me".
You want to ensure that your website includes the keywords prospects commonly search for so that you show up in the first couple of search results. Some of our favorite tools for identifying which keywords you should be including on your site are SEMRush, Google Autocomplete, Google Keyword Planner, and Google Trend.
You can determine how visible your company is in search by Googling key phrases and seeing where your website shows up. Here's an example of the companies that appeared when we searched "commercial cleaning company in DC".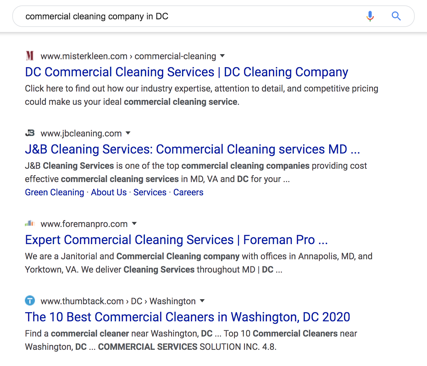 2. Claim your business and update your company profile on Google.
If you haven't already, we highly recommend adding your company to Google, so that it will be searchable on Google Maps.
In order to add your company to Google, you first need to create a Google My Business account. After creating the account, you can click the "Add your business" button to submit your company's name and address, along with other pertinent information, such as the business' category. From here, you can select whether to allow your company to show up on Google Maps.
To finalize the process, Google will ask you to verify your company through one of the following channels: email, phone, or mail.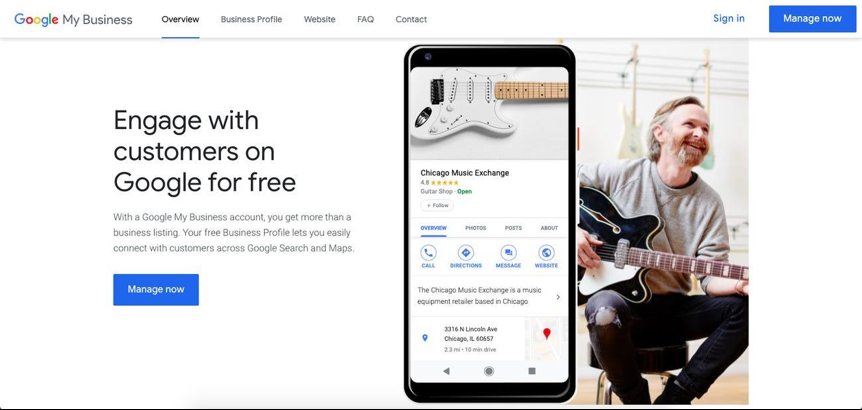 3. Create and update the social media pages for your company.
A 2017 HubSpot study found that 75% of B2B buyers rely on social media to make purchase decisions. Given that your prospects likely have social media accounts of their own and are using it to support their decision-making, you don't want to lose out on an opportunity to connect with potential customers.
According to MarTech Advisor, "Facebook (89%), LinkedIn (81%) and Twitter (75%) are the three most used social media channels by B2B marketers. Instagram is up and coming." As you create or refresh your social media pages, double-check that your company's information and contact information is correct, so that potential customers know how to reach out to you.
In terms of what content to share on your pages, we recommend sharing engaging posts that position yourself as an expert in your industry. For example, sharing informative blog posts and before-and-after project photos on your site will add an air of credibility to your digital brand.
As we kick off the New Year, now is the perfect time to think about how to grow your company's online presence. Investing in your online brand will not only help you become more "searchable" to prospects but will also increase your company's legitimacy to today's digital-savvy customers.
At ACTION Unlimited Resources, we offer state-of-the-art cleaning and facility maintenance supplies. If you are looking to stock up, our team is here to chat about the best solutions to fit your business needs!