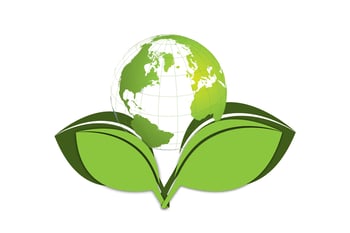 Are you familiar with the "green cleaning" trend sweeping the commercial cleaning industry? This is what the Worldwide Cleaning Industry Association has to say about the topic:
"Green cleaning is arguably the No. 1 trend in our industry and is showing no signs of slowing down. Stated simply, green cleaning is truly a marketplace phenomenon that is being driven by customer demand and the overall trending of the broad marketplace for environmentally preferable products and services."
Under the green cleaning trend, cleaning companies have started swapping out more environmentally harmful cleaning chemicals for more eco-friendly alternatives. In addition, the government has also been warning the public about the dangers of traditional cleaning chemicals. The Occupational Safety and Health Administration (OSHA) reports that the substances in cleaning chemicals can lead to a variety of health problems, including coughing, shortness of breath, wheezing, sore throat, itchy eyes, dizziness, skin rashes, asthma, and more.
To be competitive in the commercial cleaning space, it is now more important than ever to adopt green cleaning practices. One of the most impactful ways to minimize your business' environmental footprint is by swapping out your cleaning products that contain harmful and synthesized chemicals.
Many commercial cleaning solvents are made from petroleum, which is classified as a volatile organic compound (VOC). According to the Green Business Bureau, the disposal of VOCs "can create big problems for both our environment and our health. They deplete our ozone, pollute our groundwater and damage our respiratory systems."
Ammonia and bleach are two of the most common culprits found in less eco-friendly products. While they are highly effective at disinfecting spaces, they also have been known to harm the environment. For example, when ammonia is dumped into lakes and oceans, it is highly toxic for sea creatures that come in contact with it.
Wondering what types of commercial cleaning products you can switch to that are more eco-friendly? We've put together a handy list of our favorite green products that are "Safer Choice Certified" by the Environmental Protection Agency (EPA):
1. Damp Mop Neutral Floor Cleaner
is a high-performing, neutral pH cleaner that is made with non-VOC ingredients, that are better for both environmental and human health. Despite containing alternative ingredients, the surfactant technology is able to effectively remove grease, oil, and dirt from different flooring services, along with leaving a bright shine.
2. Sparcling
is made with a non-toxic formula that will dissolve the buildup of mineral deposits, rust, water stains, oxidation, and soap scum. The product has been certified by the Public Health and Safety Organization and has a wide range of cleaning applications, including coffee pots, sinks, toilets, sprinkler systems, etc.
3. Clean by Peroxy Multi-Purpose Cleanser
doesn't contain ammonia, alkalis, or phosphates. The cleaner is also low-foaming and offers convenient rinse-free cleaning. It can be used on walls, floors, and other water-safe surfaces.
4. Peroxy II fbc
is made from a biodegradable formula that doesn't contain bleach, ammonia, or alcohol. The bath cleaner is effective at getting rid of the calcium, lime, dirt, water deposits, and soap scum commonly found in bathrooms, and can be used on different surfaces, such as faucets, toilets, countertops, and more.
5. TriBase Multi Purpose Cleaner
is a non-toxic product with no harsh chemicals or fumes, made from Biorenewable materials. The product will leave your surfaces free from greasy and grimy residue and can be used on a variety of surfaces.
Customers today are demanding higher levels of social responsibility and sustainability from their commercial cleaning companies. Because there isn't currently a universal standard that designates cleaning and maintenance products that are better for the environment, the responsibility to research and select greener products falls more squarely on commercial cleaning companies.
If you're looking to swap out some of your more environmentally harmful cleaning chemicals for greener alternatives, our team at ACTION Unlimited Resources is here to help. We have dedicated hours and hours to learn about the latest eco-friendly trends and products in commercial cleaning, and are excited to partner with you to select the best green cleaning supplies for your company's needs!