An effective entrance matting system is a necessity for any facility. Owning entrance mats has many benefits and can make a big difference in your bottom line.
The best reason for a facility to have entrance mats is to stop dirt, moisture, and bacteria from entering the building. 85% of all soil enters a building on the feet of the occupants. Custodial staffs and cleaning companies make sure facilities remain clean. Investing in mats stops the root cause of the problem.
Safety is a major concern in all facilities. Effective entrance matting systems scrape off dirt and debris, absorb moisture, and dry the bottom of shoes.
Mats reduce instances of slips and falls dramatically. Matting also provides a safe surface to walk on in hazardous conditions such as snow and ice.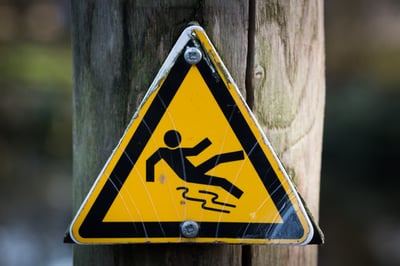 Flooring and floor maintenance is expensive. Dirt and debris can cause staining, scratching, and a host of other problems. Entrance mats and interior matting protect the floor surface from spills and wear and tear. Replacing a mat is far less costly than replacing a carpet or floor.
Mats can brighten the appearance of an entryway. The first thing someone sees when they enter a building is the mat. It sets the impression. Facilities spend a fortune on decoration and design.
Mats set the stage for everything else within the facility. Mats can be designed with logos or color schemes that accentuates the appearance of an entryway while welcoming guests into any building.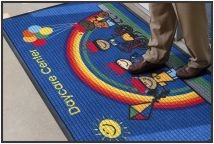 Matting doesn't stop at the entrance. Strategically placed mats throughout a facility provide protection for the occupants. Anti-fatigue mats increase worker productivity and other specialized mats provide unique benefits for a host of specialized applications.
Owning your matting system can result in huge savings. Renting mats may seem like a good option to avoid a capital expenditure. However, the cost of renting over time can far exceed the price of a durable mat from a reputable manufacturer.
Every facility has foot traffic. Foot traffic brings dirt, moisture, and bacteria into your facility. A location that is open to the public will have more foot traffic than one that is not, but even a small location, with a handful of employees, benefits from having an effective matting system.
For more tips on how matting could help your facility click below