Have you ever walked past an office building or retail store where the windows looked smudged, grimy, or worse? Windows that are poorly cleaned and maintained send a less than professional message to customers and the greater community.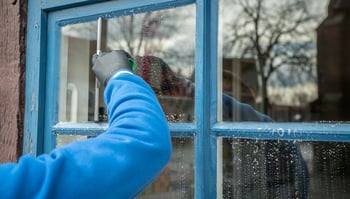 If you manage a building with lots of windows or a storefront made of glass, it is important that you ensure they are well-maintained and smudge-free. After all, you want your building to properly reflect your company's image.
Are you overwhelmed by the prospect of having to properly clean all your windows? Don't be! We have put together an easy step-by-step guide on how to keep your commercial windows squeaky clean.
Step #1: Acquire the Necessary Supplies.
Before you attempt to clean the windows, make sure you have all the necessary equipment and cleaning materials you need to ensure a job well done.
Here is a list of the basic supplies you will need:
Large Bucket:

While you can use any large bucket you have laying around, if you have many windows to clean, you may want to invest in a professional-grade bucket. We love our Boardwalk Pro-Pac Side Squeeze Wringer and Bucket combo that is durable and features foam-grip handles for increased comfort and swivel casters that allow us to easily maneuver it around.
Unger Safety Scraper

: You will need a window scraper to remove the build-up of gunk on your windows. We recommend getting a safety scraper, to prevent any accidents. The Unger B Safety Scraper is a tried and true option that has a locking blade sleeve that will help you avoid accidents as you clean your windows.
Squeegee

: One of our favorite window squeegees is the Unger B Pro Stainless Steel Squeegee which is lightweight yet highly effective at cleaning smooth, flat surfaces, such as your windows! The squeegee comes with a rubber grip handle and rubber blades.
Microfiber Cloth

: You will want to pick up some microfiber cloths that will allow you to clean the windows without leaving dreaded streaks. We love the Wypall Microfiber Cleaning Cloths that are reusable since they are an eco-friendly and sustaining cleaning choice that won't scratch your windows.

Window cleaner

: While there are many different window cleaning solution brands you can choose from, we are big fans of Boardwalk Heavy Duty Glass Cleaner, which is a high-foaming, non-ammoniated glass cleaner that is designed to remove heavier soil commonly found in industrial, institutional, and commercial buildings. According to the product description, the cleaner "easily cleans away dirt, grime, grease, scum, smears, bugs, and more [and] leaves no streaky films or residues that can attract soils."
Step #2: Prep Your Window Cleaning Solution.
After acquiring all the necessary supplies, it's time to get started with the actual cleaning! Following the instructions on your window cleaning product, dilute the solution with water into your bucket. The typical ratio of solution to water is two to one, but double check the directions for your specific product.
Step #3: Apply the Window Solution onto the Window.
The next step is to spray the cleaning solution onto the window. Apply the solution liberally, making sure to provide even coverage.
Step #4: Use the Scraper to Remove Build-Up.
Scan your windows for dirt, debris, and other gunk, and use the scraper to scrape off the build-up. Remember that scrapers can be dangerous, so exercise caution while using it.
Step #5: Use Your Squeegee to Dry the Windows.
After making sure your windows are free of build-up, take your squeegee and thoroughly dry your windows. To avoid streaks, start at the top of the window, and pull the squeegee horizontally across the window. Repeat the process as you move down the window and overlap the strokes that you are drying so that you don't unintentionally miss parts of your window.
Step #6: Use the Microfiber Cloth to Wipe the Water from the Window Edges.
To avoid mold build-up, take your cloth and dry off the water and cleaning solution that may have pooled around the window edges.
After finishing these six steps, your windows will be sparkling! If you are looking for high quality window cleaning supplies, our team at ACTION Unlimited Resources is here to help. We partner with cleaning companies to help stock the state-of-the-art supplies needed to properly clean and maintain commercial facilities.