Your cleaning crew works hard for you. They put in many hours making sure to perform a quality cleaning job to meet the client's expectations. The process used to inspect and measure the quality of the work should ensure the expected outcome is achieved. The cleaning inspection form is the cornerstone of this process. Confirming that whatever form is used is specific, clear, and actionable can be the difference between succeeding or failing to meet overall expectations.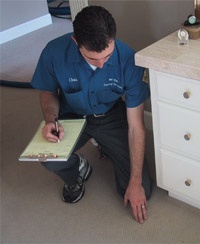 The person or people doing cleaning inspections for your organizations should be armed with the most valuable cleaning inspection form possible. Most importantly, the form should be job specific. It is possible that your team cleans multiple sites. Often a blanket inspection form is used within an organization for all jobs. This scenario breeds complacency at the inspector level and ultimately the cleaner level. The inspection form should specifically represent the size and scope of the needs at each individual jobsite. This should include but not be limited to specific client demands. It is important that your cleaning inspection form is up to date. Often, over time, expectations change. Ensuring that the inspector's form is reviewed periodically and updated as necessary will increase efficiency and help meet goals.
Often, internal documents and especially inspection forms within an organization are illegibly written, contain internal organizational jargon, or may have embarrassing comments and profanity. The cleaning form should be completed with a high degree of professionalism. Imagine if a form was mistakenly left behind. Anything written should be treated as if a client would see it directly.
Paper cleaning inspection forms can create unwanted inefficiencies centered around the accuracy of the inspection, the time it took to complete the inspection, and the cost of tracking down paperwork if a concern arises later. There are options to go paperless and use technology to improve facility cleaning. Many programs allow for inputting specific inspection criteria and then turning that information into professional reports that can be effortlessly reviewed by staff and clients alike.
The resulting cleanliness is the most important measurable to the client and your organization. Therefore, inspecting your team's work is smart business. Ultimately, the design of your cleaning inspection form will influence your organization's performance.