If you want to eliminate the biggest problem with VCT refinishing, eliminate stripping! Every year customers spend a fortune on the products and labor to strip and recoat their floors. Not only is it expensive, but it's dangerous.
Common stripping chemicals can be highly toxic and when applied to a floor they create an unbelievably slippery surface. Almost everyone who has stripped floors knows someone that has fallen into the toxic slurry and hurt themselves. The good news is that by starting fresh, introducing new technologies, and changing your floor care maintenance process, you can extend the life of your coating dramatically.
Stripping
If you want to eliminate stripping you have to remove the old technology and start fresh. Often times when stripping, there is no set process for the crew to follow. By implementing a proven stripping procedure, you can reduce the cost of stripping and get a better result. Some common problems caused by improper stripping can be seen below.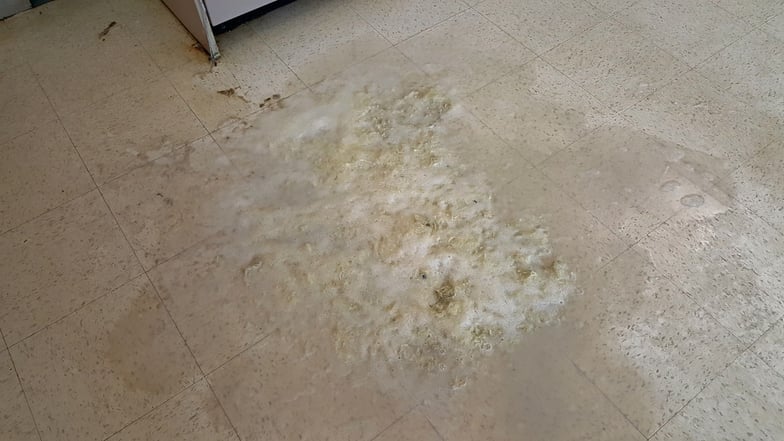 Dilute Your Stripper Properly
When stripping a floor, make sure you dilute your stripper properly. Too much water and it won't remove the finish in a timely manner, too little and you get what you see in the picture. If there is not enough water for the solids in the finish to liquify, it will peel up in chunks.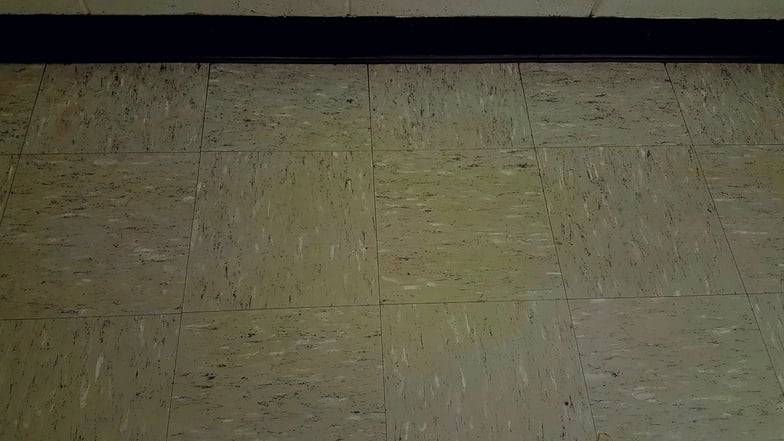 Scrub in Both Directions
When scrubbing the floor, it's important to scrub left and right, parallel to the doorway, and then again perpendicular to the doorway. This way you ensure that you have hit all the low points. In the above picture you will see discoloration where the machine rode right over the low spots and left behind yellowed finish.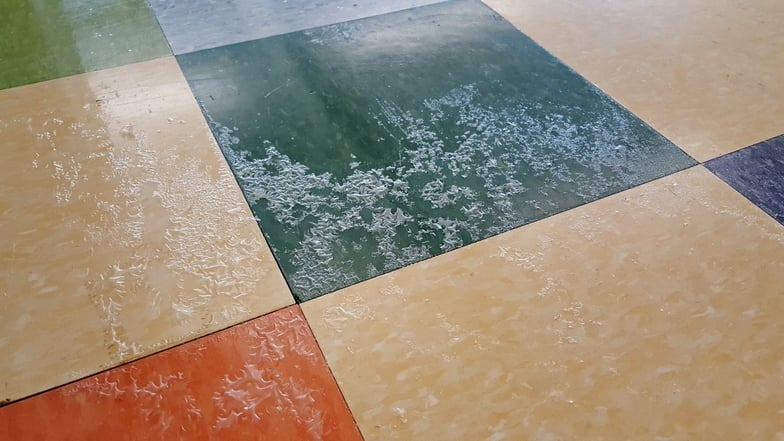 Properly Neutralize After Stripping
The above picture shows an area where the floor had not been properly neutralized. When the finish dries it does not bond with the tile and begins to flake off. A floor should be between 7-8 pH before recoating.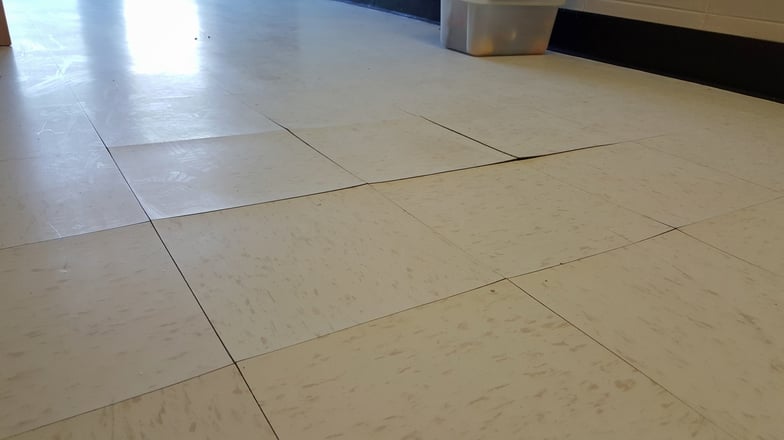 Stripping Ruins VCT
Years of stripping VCT wax will penetrate tiles and remove color, or as pictured above, remove the glue that holds the tiles in place. Once this happens there is only one solution…replacement.
The best way to avoid these issues is to take the time to implement proper, easy to follow procedures that prevent the need to strip every year. Starting with a bare, neutral floor gives you the best possible base to launch a long-term floor care program.
Coatings
Modern floor coatings can be very different from one another. The type of polymer, not the percentage of solids, can be far more important to your long-term outcome. If you want to eliminate stripping you must plan by selecting a coating that is designed to hold up to the damage the floor will encounter throughout its life-span.
UV Resistance
UV light coming in from windows and out of fluorescent lights can cause a chemical reaction in your coating making it discolor. Most times this is seen as a yellowing, but it can also turn brown depending on the finish you use. By selecting a coating that has UV inhibitors you can avoid this long term problem.
Recoverability
No floor coating will stay perfect with the wear and tear that hundreds or thousands of people put on it daily. An important factor in selecting your floor coating is to pick one that is designed to recover. Most floor finishes are designed to be stripped so they don't put the necessary ingredients in to allow them to release dirt. Newer technologies in floor care allow you to have a coating that can release dirt and discoloration without the need for stripping.
Recoating Process
Just like any other cleaning procedure, the process is just as important as the products. Implement a consistent way of applying finish and ensure that enough time passes between coats.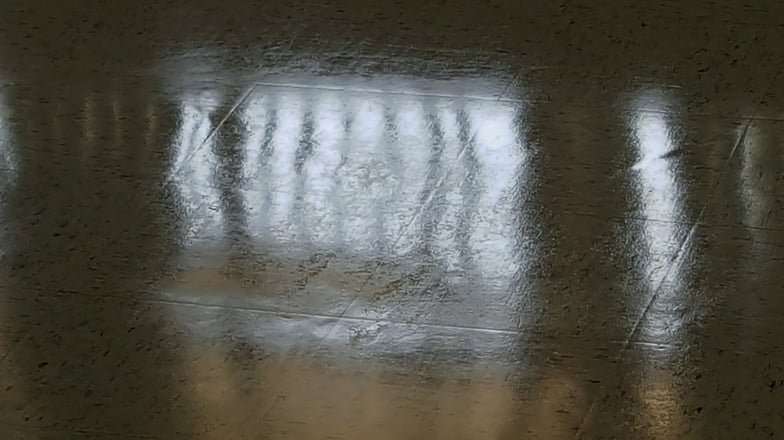 Coating Too Quickly
If an additional coat is put over a coat that has not properly cured, it will peel off the dried top layer and cause a dull, flaky look. Be sure to wait the recommended time between coats before recoating.
Maintenance
Between recoats, a good maintenance process can keep the look at a much higher level and prevent damage.
Passive Systems
A good interior and exterior matting system works 24/7 and can dramatically reduce how much dirt, salt, sand, and other types of debris can enter the building. Be sure that you maintain mats by vacuuming them regularly and cleaning them with an entrance mat cleaner.
Look to Your Dust Mops
Pushing around a 72" dust mop that is loaded with dirt and dust doesn't do much good for the floor. Newer technologies like microfiber dust mops pick up significantly more grit and can be cleaned out much more easily. Grab the center of a floor pad and scrape out the dust mop over a garbage can as often as possible to keep them working at their best.
Floor Chemistry
Floor coatings can be damaged by strong acids or bases and are best in a neutral state. Select a chemical that can cleanse and protect your floor without altering its pH dramatically. If you run into tough marks and scuffs, be sure that you do not use a chemical that removes the coating with the mark. This will leave dull spots and create more work down the road.
Above the floor
Floors can be badly damaged by overspray from chemicals used to disinfect, clean desktops, or remove graffiti. Utilizing a low toxicity disinfectant and mild pH mark-remover can prevent the above-the-floor cleaners from damaging your floors. It will also help you implement a full green cleaning system!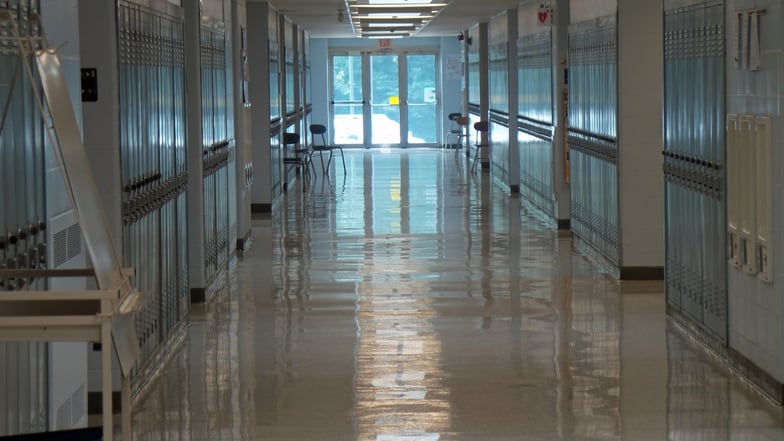 It Can Be Done!
The floor pictured above was last stripped in 2013 and to-date is maintained properly.
With the guidance of a qualified consultant from Action Unlimited Unlimited Resources you can learn how to go 5-10 years without having to strip a floor.