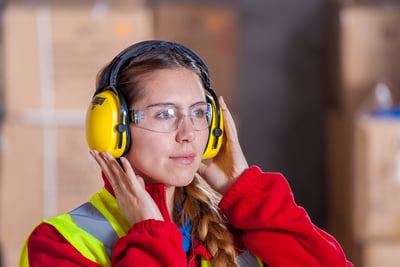 As someone who works in the facility maintenance industry, you are likely aware that janitors and facility cleaners are commonly exposed to environments filled with sharp objects, chemicals, abrasive surfaces, and other dangerous elements.
The best way to reduce the likelihood of injuries is to provide your cleaners with the proper safety training and protective gear for the job. We've put together a list of common safety gear that every facility cleaning crew should have:
Protective Eyewear
Every day, over 2,000 workers in the U.S. injure their eyes on the job, with most of the injuries resulting from small particles or objects hitting or rubbing against the eye. Choosing the correct protective eyewear is crucial to preventing common workplace eye injuries.
Safety glasses provide basic eye protection against flying objects. However, if something hits the glasses at a high speed, the glasses could shift out of place and leave the eyes unprotected.
Goggles come in two different types: direct and indirect vented goggles. Direct vented goggles are only approved to protect against particulates, like dust and soot. In contrast, indirect vented goggles can be worn to protect against not only dust, but also chemicals, vapors, and liquids.
Full face shields provide the most coverage for workers who could be exposed to strong chemicals and flying particles. For even more protection, workers can wear face shields with either safety glasses or goggles.
Hearing Protection
The National Institute for Occupational Safety and Health has reported that every year, over 20 million Americans are exposed to damaging noise at work. Investing in proper hearing protection can minimize the impact of loud environments and prevent hearing loss down the road.
Earplugs, which are typically made of foam, are inserted directly into the ear canal. You can choose between disposable or reusable earplugs, and if you're interested, you can even invest in custom-molded earplugs.
Semi earplugs, which don't fully enter the ear canal, are designed to stay in place over the ears with a headband that connects the two earplugs. These types of earplugs typically cannot be custom-designed for an individual's ears.
Earmuffs are created with sound-reducing materials and ear cushions that are held together by a headband. They are useful for muffling noise out and protecting against over-exposure to loud sounds.
Protective Headgear
According to a 2018 NIH report, "approximately 1 in 4 mild traumatic brain injuries in adults occur at work". Common causes of head injuries include falls, getting struck by flying objects, and accidental impact with fixed objects like pipes and beams.
Hard hats and heavy-duty helmets offer a barrier between the worker and many common workplace hazards. These protective hats provide both shock absorption and impact protection, making them an important piece of PPE (personal protective equipment) for any facility worker).
Bump caps, like their name suggests, provides great protection against accidentally bumping the head against hard surfaces. When working in environments with low overhead hazards, bump caps should definitely be worn. However, it is important to keep in mind that, in contrast to hard hats, bump caps do not offer great coverage against falling objects.
At ACTION Unlimited Resources, we take pride in offering superior quality personal protective equipment designed to keep you and your team safe on the job. If you need advice on the best safety equipment for your work environment, we would be happy to chat with you about your needs!