Join Action Unlimited Resources, a certified "Great Place to Work." We can only continue this vision by adding the right people to our team. We are always looking for ACTION oriented talent. Please contact us directly or apply for an open position below.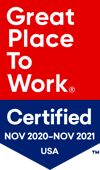 This role is an integral part of the Action Team, helping the team deliver truly remarkable customer experiences through shipping, receiving, and warehousing operations.
Email Us

Action Unlimited Resources is always searching for great people to add to our sales team! This role is an essential part of building our growing customer base, helping with consulting services, selling products and supplies.
Email Us

Action Unlimited Resources is looking for a supportive, organized, detail-oriented, tech-savvy person to be our newest Account Manager. Extra points if you're a quick learner and experienced problem solver with a history of putting the customer first.
Email Us